About City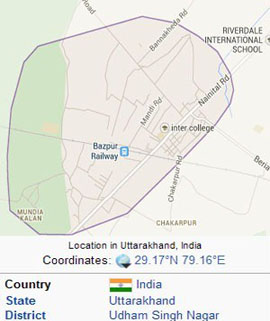 Bazpur Distt- Udham Singh Nagar, Uttarakhand.
It was established in early in 17th century, by Chand king, Lakshmi Chand (1597–1621), and named after a former Chand king, Baz Bahadur. Bazpur has the singular achievement of possessing the first co-operative sugar mill, which was dedicated to the nation by Jawahar Lal Nehru. It was the first effort of establishment of a sugar factory in the co-operative sector, which went into production on 16 February 1959.
The much famous hill station "Nainital" is 58 KM from this place. Sight seeing through this route is fantastic. 25 KM ahead towards Nainital there is a place called Naya Gaon, where there is a natural waterfall named as Corbett Fall.